$25 Gift Certificate from The Exclusive Company
$25 Gift Certificate
Sold Out
Sorry, this item is currently sold out.
America's Oldest Full-Line Record Store -- rockin' Wisconsin since 1956!

The Exclusive Company has always been the
premier place for your entertainment needs because of our overall low
prices, vast selection of new and pre-owned CDs, DVDs, Blu-Ray, Video
Games & Vinyl plus books and pop-culture accessories one can't find
just anywhere. The Exclusive Company also has a stellar group of
employees, we call our team members, who are ready to give you the type
of guest service you deserve. Our team members have incredible
knowledge across the musical board, and our management team alone has
nearly 200 years, combined, of music buying experience. Not only does
our team strive to help our guests locate their desired title or product
within the store, but we'll special order anything still in print at no
extra charge!

The Exclusive Company looks forward to many more years of being
the destination in Wisconsin for music, movies, games, accessories, and
pre-owned! Now as Mr. G. has famously bellowed over the airwaves into
the ears of generations of Wisconsin residents,
"Say it with me -- The Exclusive Company!"


Green Bay Hours --
Mon-Fri 10-8
Sat 10-8
Sun 11-5

Appleton Hours --
Mon-Fri 10-9
Sat 9:30-9
Sun 11-5

TEXT NEWRELEASE7 TO 98341 FOR THIS WEEK'S TEXT-MEMBER ONLY SALES!!!!!!

No cash back, no cash value and no carry over. Buy as many as you like.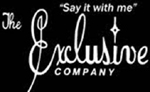 Click images to enlarge.



The Exclusive Company
423 Dousman St. (Green Bay)
770 W. Northland Ave. (Appleton)
Green Bay/Appleton, WI 54303/54914
Phone: (920) 435-0880
Website: http://
Email Address: (920) 731-60...
More Information