$40 Gift Certificate from Riverside Florist
$40 Gift Certificate
Sold Out
Sorry, this item is currently sold out.
Make RIVERSIDE Your Florist of Choice!

We're the "real thing"! We're not a call center or a "megaflorist." We're the florist right down the street...or across town, who will be designing and delivering your flowers.

Riverside Florist and Greenhouse of Appleton (Fox Cities) provides a wide variety of floral services including interior landscaping, wedding and funeral flower arrangements, flower delivery, annual and perennials, house plants, and of course, flowers for any occasion.

By calling us direct, you will support a local business and avoid the add-on charges of the middleman. Save yourself some "green"...call your local florist...Riverside Florist!

We're More Than "Just Flowers". Take A Look At What We Can Do For You....

**Interior Landscaping**
Breathe easier with the beauty of green plants.
Did you know that green plants actually help clean your indoor air? To refresh the air in a 1,800 square foot area, one study suggests placing 15 plants in spaces where the air circulates well.
Riverside Florist sells or rents green plants to enhance all types of work environments. Because we also offer a service to maintain the health of those plants, it's both worry and hassle-free to surround yourselves and your visitors with a bit of the outdoors.
If you'd prefer, we also offer botanically correct silk trees, plants and floral arrangements to match your office decor.
**Party Planning**
Make your event an affair to remember.
Whether you'd like your next company party to be simple, or simply sublime, Riverside's experienced party planners can help add a bit of floral flair to your event. Our planners take the time to sit down and really listen to your needs. We'll work with you on any or all aspects of your party including creating an overall theme, or designing original table decorations or party favors.
**Say It With Flowers**
Let them know you care.
Some occasions deserve flowers. "Congratulations", "Get Well Soon", "Sympathy" or "Thank You" can be said in many creative ways. Of course, flowers speak for themselves, but you can increase the impact of your message by adding or substituting a blooming or green plant, balloons, gift baskets or fresh gourmet treats.
**Fresh Flowers At Your Fingertips**
Set up a standing order.
Add beauty and style to your reception area with a "standing order" for fresh flowers or seasonal blooming plants. Schedule a floral delivery on any basis you'd prefer: weekly, bi-weekly or monthly.
**Deck The Halls**
A cornucopia of seasonal decorating ideas.
Riverside's talented designers are experts in creating an atmosphere of holiday magic. From nostalgic to contemporary, we can help you decorate your tree, trim your home, corporate headquarters, office or country club with the spirit of the season.

Monday - Friday: 8:00 - 5:30
Saturday: 8:00 - 4:00
Sunday: Closed
No cash back, no cash value, no carry over. Buy and use as many as you'd like.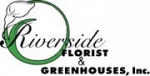 Click images to enlarge.




Riverside Florist
1236 E. Pacific Street
Appleton, WI 54911
Phone: (920) 738-4500
Website: http://www.riverside...
Email Address: info@riversi...
More Information