$10 Gift Certificate from Niko's Gyros
$10 Gift Certificate
Retail Value: $10.00
Your Price: $7.00
Your Savings: $3.00 (30%)
Welcome to Niko's Gyros Greek American Restaurant!

The first Niko's Gyros was opened in 1988, by Nikolaos Gorgolis in Waukesha as a seasonal drive-in specializing in Gyros, traditional American favorites, and ice cream. In 1992, Niko expanded the building to include indoor seating and year-round service. Niko's Gyros has enjoyed such recognition as: "Best Gyros" in the Milwaukee Journal's Reader Poll of Best Restaurants in Milwaukee and "Best Eats under $7" in the Waukesha Freeman.

In 1999, Niko's younger brother Gregory Gorgolis opened the second Niko's Gyros in Oshkosh near the UW-Oshkosh campus. Serving the university community, the Oshkosh location expanded its hours of operation to late nights and including delivery service. The Oshkosh location is actively involved in the University community through its various sponsorship activities for student groups. It has received several citations from the UW-Oshkosh student newspaper The Titan as the preferred restaurant amongst its students.

Recently in 2010, Niko's Gyros opened up its newest location in Appleton, getting back to its roots with a variety of soft serve ice cream treats and expanding the menu with Chicago style hotdogs.

* Niko's Gyros Oshkosh
532 Campus Place
(920) 231-1334
Dine-In, Carry-Out, & Delivery!
Hours:
Sun-Tue: 11am-11pm
Wed-Thur: 11am-2:30am
Fri-Sat: 11am-3am

* Niko's Gyros Appleton
1027 South Outagamie Street
(920) 955-3636
Dine-In & Carry-Out
Hours:
Mon-Thur: 10am-9pm
Fri: 10am-10pm
Sat: 11am-10pm
Sun: 11am-9pm

* Catering Options
Nikos knows that every event is unique and wants to provide the best service possible for your special occasion. If you don't see it on our catering menu, please give us a call and we can customize a menu that is right for you!
No cash back, no cash value, no carry over. One certificate per customer per visit.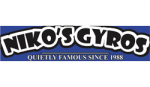 Click images to enlarge.





Niko's Gyros
1027 S. Outagamie St.
Appleton, WI 54914
Phone: (920) 955-3636
Website: http://www.nikosgyro...
More Information