$20 Gift Certificate from Quenchers Food & Spirits
$20 Gift Certificate
Sold Out
Sorry, this item is currently sold out.
THE BEST DEALS IN TOWN!!!

MONDAY 50 CENTS TACOS, $1.00 MARGARITAS...
TUESDAY BUY A BURGER GET ONE FREE...
WEDNESDAY BUY A GRILLED CHICKEN BREAST GET ONE FREE...
THURSDAY 1/2 PRICE APPS 1/2 PRICE TAPS...
FRIDAY FISH FRY...
SAT/SUN 1/2 LB. BURGER & 1/2 LB. FRIES 1/2 PRICE!!!
No cash back, no carry over. Not valid with other offers or coupons. Buy and use as many as you like.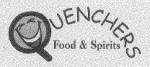 Click images to enlarge.

Quenchers Food & Spirits
147 E. 2nd Street
Kaukuana, WI 54130
Phone: (920) 766-2990
Website: http://www.facebook....
More Information