$50 Gift Certificate from Landscape MD's Inc.
$50 Gift Certificate
Retail Value: $50.00
Your Price: $35.00
Your Savings: $15.00 (30%)
Landscape MDs inc is located in Green Bay Wisconsin. We are a locally owned and operated company that provides outstanding customer service and top of the line quality when it comes to all of your lawn and landscape needs. Through a highly trained staff we are able to offer superior lawn and landscape installation, maintenance services as well as sales of landscape materials.

Landscape MDs Inc offers a variety of products which can be picked up or delivered from multiple locations throughout Northeast Wisconsin. We have over six different types of mulches available including: Hardwood, Cedar, Chocolate, Gold, Red, and Tree chips. In addition to mulch we have many types of stone and topsoil. Landscape MDs inc are among the top Landscape suppliers in the Green Bay area. You can be confident you'll receive quality products with excellent customer service.


Property maintenance services

If there's one thing we have learned in the landscaping business, it's that every property has different maintenance needs. Whether you require one service or our complete package of maintenance services, LMDs provides you a with an unmatched level of high-quality service and professionalism!

We offer an excellent array of services to help you with maintenance tasks ranging from the simple to the most complex maintenance needs. No matter what type of project, our goal is to provide you with superior quality, service, and professionalism.

Our maintenance Services Include:

Lawn Mowing
Fertilizing/Weed Control
Spring and Fall Clean-up
De-Thatching
Core Aeration
Tree and Shrub Pruning


Landscape
"Fulfilling All of your Outdoor needs!"

Our focus is to provide superior landscape design, installation, and maintenance services for the residential and commercial customer. Whether a project is a small garden design or an overall landscape plan, we enjoy consulting with clients and working closely with them to create personal and livable outdoor environments.

Our Landscape services include:

Landscape Consultation
New Home Landscaping
Landscape Renovation
Hardscapes
New Lawn Installation
Mulch Installation

Monday-Friday: 8:00 am-5:00 pm
Saturday: 9:00 am-12:00 pm
No cash back, no cash value, no carry over.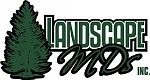 Click images to enlarge.



Landscape MD's Inc.
2459 White Pine Rd.
Green Bay, WI 54313
Phone: (920) 366-4525
Website: http://www.landscape...
Email Address: mike@landsca...
More Information